Date: March 23, 2018
JAIMIE RIECHMAN – 30 min. private voice lessons
THIS SESSION runs January 8 – March 30
PLEASE NOTE THESE ARE WEEKLY LESSONS!
Session runs from January 8th – March 30th
When you sign up, you will be committing to the full session of lessons. (That's a commitment of 12 weeks)
If you want just one lesson, email Jaimie at jaimieriechman@gmail.com

Cost is $25 per lesson. The lessons are to be paid by the session, unless arrangements have been made with Jaimie. You will be invoiced for the session. At that time, you may pay on-line with a credit card, or bring a check or cash to the first lesson. (Checks made payable to "The Biz.")
CANCELLATIONS: Only in special circumstances will fees be waived for cancellations.
If you are unable to make a lesson and would like someone else to fill that slot, it is your responsibility to find someone to do so and communicate to Jaimie accordingly.
We kindly ask that you bring any music you are given to your next lesson and that you keep it in good condition.
AVAILABLE TIME SLOTS ARE LISTED BELOW.
PLEASE NOTE YOU ARE RESPONSIBLE FOR THE ENTIRE SESSION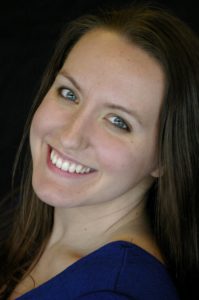 Jaimie Riechman, born and raised in North Central Ohio, graduated from Anderson University in May 2015 with a degree in Music Business. She started with The Biz as an intern during her last semester of university and has since pursued many musical opportunities in performance, teaching, directing, and technology in the Indianapolis area. With The Biz she has music directed Seussical, Jr., My Son Pinocchio, Jr., Magic Tree House: Knight At Dawn, and My Time To Shine's Willy Wonka KIDS and Aladdin KIDS. She is also an instructor of private voice and various classes. Outside of The Biz, she music directed CYT's production of Bridge to Terabithia. She is also the current Director of Westside Church of the Nazarene's Handbell Choir and Avon High School's show choir group: Attraction. Jaimie has always been very passionate about the performing arts and she loves to inspire that same passion in her students.
Sign up below...